Posted by Pete Rogers on Jun 22nd 2022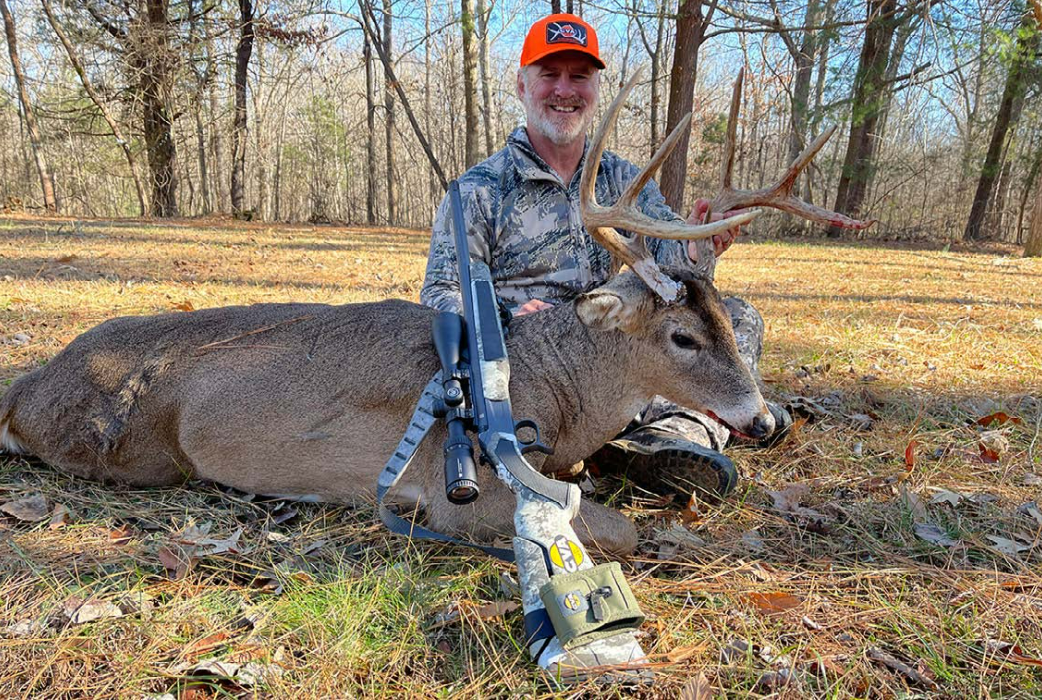 On June 7th of 2022, Pete Rogers wrote an article for North American Outdoorsman about hunting with CVA's Accura MR-X.
"Super Accuracy at a Great Price"
"The cold gripped my face, the only part of my body that was not insulated on this bitter December day in Western Kentucky. Hunting with Ironman Outdoors, a Christian men's ministry, eight of us were scattered on different farms in hopes of getting a late-season muzzleloader buck in our sights. This was my second hunt with the CVA Accura MRX in .45 caliber, and I was anxious to test its merits on a quality buck.
As the morning progressed, the cold night faded into a colder day. When the sun rose, it pushed the colder air down, and that settled in my bones, making the day feel more like 2˚F weather. Sitting there, considering my sanity for hunting in such conditions, I noticed a slight movement to my right angling across the ridge. I was sitting on top, overlooking a steep drainage that had seen several does meander through earlier that morning. It was just past 9 a.m. The glint from the sun reflected off the long main beams of a buck moving a mere 18 yards to my right. Slowly moving my head to spot the big eight- pointer, I immediately knew that I wanted to try to take this buck."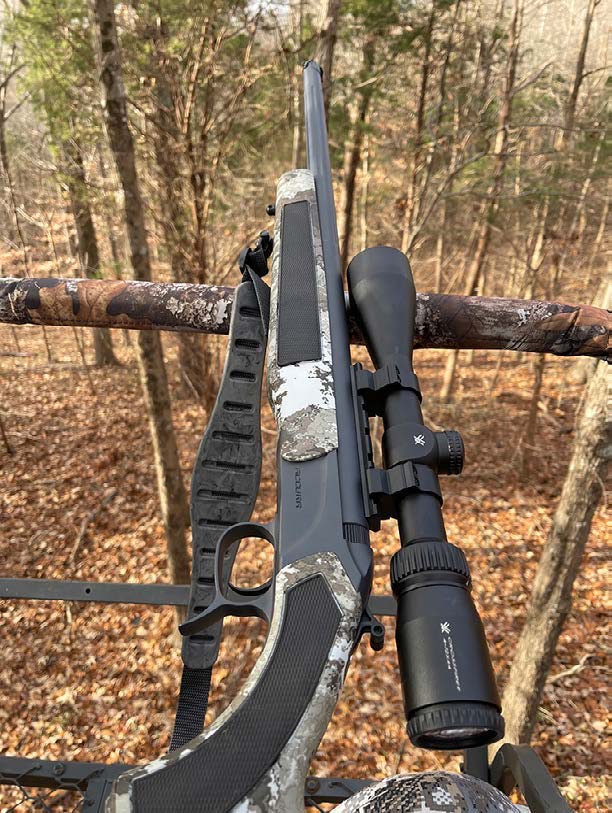 "My .45 Caliber CVA Accura was loaded with 77 grains by weight of Blackhorn .209 black powder substitute and a 285-grain Powerbelt ELR bullet. The buck stopped and looked in the direction of a doe feeding in front of me at 20 yards. He didn't like what he saw and spooked, running away from me across the ridge. As he ran through the woods, I quickly shifted in the stand and got ready. He stopped behind a blown-down tree, quartering away, thus providing me a great view of his vitals. Cocking the hammer on the Accura, I settled the Vortex optics crosshairs on his shoulder and eased on the 1.8 lb. trigger. At the sound, the buck fell. As the smoke faded, I could see his antlers sticking up above the forest floor and I knew I had my buck.
In the world of muzzleloading rifles, one name stands above the rest when it comes to innovation, accuracy, and performance. With several models to choose from, I believe CVA is leading the pack in break-action inline muzzleloaders. In the CVA lineup, no other rifle is as accurate as the CVA Accura, in my view."

"The new Accura LRX and MRX are available in the traditional .50 caliber and also in the super performing .45 caliber. Tailored towards those who like to push the limits of long-range shooting, the LRX comes with a longer Nitride covered stainless steel fluted 30-inch barrel to help shooters achieve optimum performance at extreme long range. The MRX is standard with its 26-inch fluted stainless steel Bergara barrel. The LRX and MRX are identical except for barrel length. Both the LRX and the MRX come standard with a full synthetic stock that is noticeably absent of the traditional ramrod seen on most break-action muzzleloaders.
Tony Smotherman, CVA influencer relations manager and muzzleloading expert, says, "Removing the ramrod enabled us to get a full, free-floating barrel which allows us to get more accuracy out of this rifle." To accommodate the missing ramrod on the barrel, CVA has a rifle and caliber-specific carbon fiber collapsible ramrod that arrives with each rifle. The collapsible ramrod is stored in a pouch that most hunters carry on their backpacks for quick follow-up shots when needed. But honestly, with the accurate performance of the CVA Accura, follow-up shots are seldom necessary."
"Scaling Averages"
"After I unpacked my Accura when it arrived at my home, I did what I normally do—break out my Wheeler Engineering trigger scale and test the trigger right out of the box. The Wheeler Engineering trigger scale allows me to take averages. Placing the scale on the trigger, I pulled it 10 consecutive times and took an average. To my amazement, the factory trigger averaged 1.8 lbs. of force to fire. A second 10-shot average showed 1.7 lbs. and a third test averaged 1.8 lbs. To say I was impressed is an understatement. As a gun writer and avid shooter, the first thing I normally do on a new rifle is adjust the trigger to get the pull at a shade under 2 lbs. There was no need for this with the CVA Accura."
"The next noticeable difference between this rifle and the Accura of old is the adjustable comb, or cheekpiece. A one-screw adjustment on the comb allows for the stock to be adjusted to fit the shooter and bigger optics. Today's shooters want bigger and bigger optics on their rifles. The standard 44 mm objective is not diminutive compared to many who have 50 and even 56 mm objective lenses on their rifles. To accommodate this, scopes are being mounted on taller bases and rings, which in turn cause shooters to lift their heads off the stock to see the target. The CVA Accura fixed this issue with the adjustable comb on its LRX and MRX Accura rifles."
"Game-Changer Projectiles"
""Making an accurate rifle is one thing, but if you don't have good projectiles to send down the pipe, you will never achieve optimum performance,"" CVA's Smotherman says. To fix this, CVA's sister company, Powerbelt, developed the ELR line of projectiles for their muzzleloading rifles. Available in .50, .45 and even .40 caliber, the ELR is changing the game for long-range shooting and performance in the muzzleloading world. The Accura in .45 caliber has a 1/12 twist. These Bergara barrels send the .285 grain bullets down the tube at an astonishing 2069 per second with an astonishing 2661 ft. lbs. of energy at 100 yards."
"While testing the .45 caliber CVA Accura at the Talladega Marksman course, I was able to consistently hit steel targets out to 600 yards with a .45 caliber muzzleloader! From my perspective, and coming in at under $700, no other muzzleloader in its price point on the market is as accurate as the CVA Accura."
The original article was published by North American Outdoorsman.
Link to the original article: Review: The CVA Accura – North American Outdoorsman (northamerican-outdoorsman.com)